Lane's Bridal推出全新「專業BFF人像攝影體驗服務」,目的是為一眾有意拍攝閨蜜照的朋友,帶來一次前所未有的愉快經歷,讓您和您的摯友,在享受拍攝過程中所帶來的歡笑之餘,可以同時留下一段美好的珍貴回憶作為紀念!
我們的 「專業BFF人像攝影體驗服務」,除了包括令人興奮的高級法式婚紗造型室內攝影之外,更另外突破性地加入專業戶外人像攝影單元,讓您和您的閨蜜可以完全放鬆心情,一同在中環的街道上遊走,穿著最能演繹您們個人風格的自選衣飾,同時擺出最跳皮或最cool的表情動作,讓攝影師將您們一輩子的友誼一一記錄下來,因為我們相信,只有這樣才可以稱得上是真正的
​
貼心小提示:
• 此服務只限2-5人之女性組合,5人以上將有專人作特別安排。
• 此服務只限星期一至五之日間時間,其他時間或日子需視乎情況再作安排。
• 化妝時間並不計算在拍攝時間之內。
• 室内拍攝場地為本公司位於中環的 Private Salon。
• 外景最多可選擇中環區內的兩個鄰近拍攝景點。
• 收費以人數計算,絕不含其他隱藏式額外收費。
sea porch
---
This charming outdoor porch on the back of the historic Hammond Mansion has a picturesque view overlooking Long Island Sound. The Sea Porch is a great location for a smaller reception, cocktail party, or luncheon. It can accommodate approximately 50 people for a standing reception with limited seating available.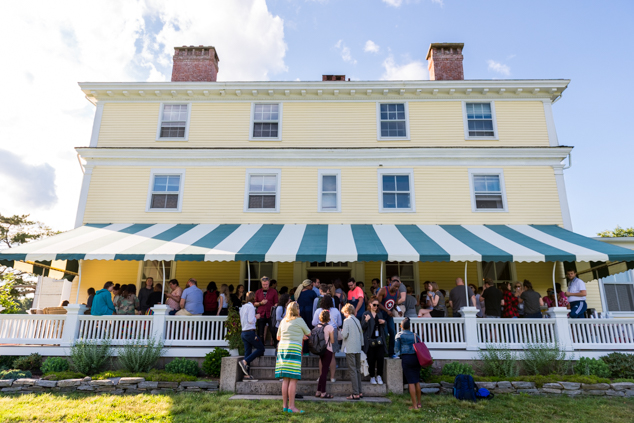 ---
sunken garden
---
This beautiful lawn, overlooking a stunning view of the Long Island Sound, is a perfect wedding and party venue from late spring to early autumn. The space works well with tents of various sizes, and your guests can enjoy the scenic view by both day and night. The Sunken Garden can accommodate up to 300 for a seated dinner.
---
amphitheater
---
This amphitheater-style outdoor theater space was built by the O'Neill's founder and dedicated volunteers in the 1960s. It is ideal for events like a wedding ceremony where you may want a stage with audience seating for your guests. Bench seating rises up in a semi-circle around a stage, nestled in a lowered area next to the Barn and the Dina theaters. The Amphitheater seats about 200 people. Renters may wish to supply chairs to use with the bench seating.
---
edith oliver theater
---
The Edith Oliver Theater, named after one of the O'Neill Theater Center's most beloved dramaturgs, sits on a spacious lawn below the O'Neill's two towering, historic beech trees. The wooden platform stage is surrounded on three sides by bleacher-style seating, perfect for a meeting or party. The Edith Oliver seats about 125 people, or slightly more with an optional first row of chairs.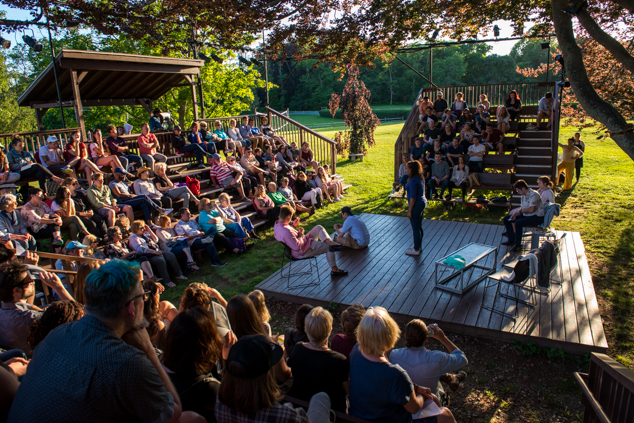 ---
blue gene's pub
---
The Pub is great for casual, smaller events, holding up to 50 people indoors and more if the attached patio is used. This space serves as an actual working pub during the summer, and many renters have fallen in love with its quirky aesthetic. The layout features a bar with stool seating, a small stage, and a main floor suitable for dancing or pub-style seating.
---
nelson & aida white house
---
Moved to the property in the 1980s, the former Von Winkle Mansion once known as "Ironsides" offers lovely indoor reception and meeting spaces, as well as an outdoor patio. This elegant home serves as residential and office quarters for the O'Neill during much of the year, but the open first-floor parlor, living room, and Founders Room are often available for private parties and receptions. Indoor capacity is approximately 75 people.
---
private event pricing
---
Private Events Minimum 4 Hours Pub, Patio, & Lawn: $500/hour Sea Porch & Conference Room: $400/hour White House: $300/hour Additional venue pricing below.
---
---
The NEW Bridal Shower!!
能在同一輯相片之中,展現大家不同個性,無拘無束地留住最真摰的笑容,畢生難忘。